The fall features two sports for The Heights Cavaliers: soccer and cross country. Both compete in the Washington Catholic Athletic Conference (WCAC), one of the most competitive high school leagues in the country.
Varsity soccer hopes to repeat their WCAC title, while cross country, with five of their top seven runners returning, hopes to move into the conference's elite. Here's a look at the season ahead: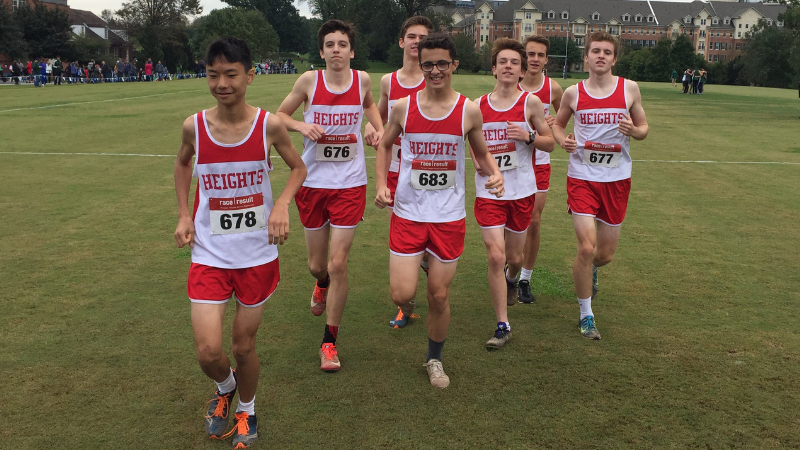 Cross Country 
After much recent success, including two county championships in three years, varsity cross country looks to reach new heights in the WCAC. Their first season in the league saw them finish fifth out of eleven teams with the number six overall runner in the conference.
Longtime head coach Justin Myers says "I am optimistic that Heights cross country will have another good year in 2019. We will certainly feel the loss of our two excellent seniors that graduated, Tony Crnkovich and Luke McClorey, but we have a great freshman class coming in and we are deeper than we were last year. Senior Shane Patrick, juniors Hans Guenther, Nick Monahan, Michael Cahill, and Nick O'Neil, and sophomore Joe McClorey have been training hard and are currently our top guys. We hope to repeat as county champions and improve upon our fifth place finish in the WCAC last year."
You can see the full schedule of meets, which are held mostly on Saturdays throughout the DC area, here. You can also track the team's progress at mocorunning.com. 
Soccer 
The Heights varsity soccer team is primed to kick off another season of the beautiful game. The 2018 WCAC Champions return twelve varsity players and 2018 All-Met Coach-of-the-Year Colin Gleason welcomes a very exciting crop of young talent for the team's title-defense campaign.
The Cavaliers had an impressive victory over Calverton in the season opener on September 5, and now head to local rivals Landon (9/10) and Bullis (9/13). On September 15th, the Boys in Red travel to Pennsylvania for the fourth annual High School Soccer Jamboree to compete among some of the East Coast's top teams. The WCAC schedule starts with a home match against Archbishop Carroll on September 17.
The soccer Cavs are defending more than just their WCAC trophy this season. They will also be defending a fourteen-match home unbeaten streak, and have not lost at our hilltop fortress since mid-September 2017. Much of the credit for this record belongs to the Cavalier fans, who can look forward to some huge home games in 2019. The Cavs will host all three of the other top-four finishers in last year's WCAC regular season (DeMatha 9/23; St John's 9/27; and Gonzaga 10/4), as well as their adversaries from the 2018 Finals, Paul VI (10/15).
Other key matches include a night game at Good Counsel (9/24), a trip to O'Connell in early October (10/8), and a home game against non-conference foe Potomac (10/10).
Parents, friends, alumni, and students have continually given such great support and the 2019 campaign is sure to be another exciting season of soccer at The Heights!
You can view the full schedule here.