Young men fully alive have always been drawn to the American West and The Heights School will again be offering a Western bound trip with our own unique spirit of adventure.  Seeking the inspiration of natural beauty, the wisdom gained from the American historical experience, and the magnificence of Western landscapes, we will be heading to Montana and Wyoming this summer to visit the Beartooth Wilderness, Bighorn National Canyon, Yellowstone National Park and Grand Tetons National Park.  Along the way, we will be climbing mountains, taking in vistas and waterfalls, swimming in earth heated streams and lakes, staying in historic cabins, observing wildlife, and experiencing some of the most geologically significant sites in the world.  The starry big skies of a brilliant Montana night have been known to light up the soul in an unforgettable way.
HeightsWEST Team: Trip Leaders:
Mr. Andrew Reed, HeightsWEST Trip Director
Mr. Eric Heil
Mr. Rich Moss
Mr. Ben Houde
Fr. Matt Fish 2023 Trip Chaplain
Mr. Shane O'Neill
Mr. Kyle Blackmer
We utilize a network of Wilderness Camp Cabins and camp kitchens at our three homebase locations that we have established over the years.
HeightsWest Trip Slideshow #1
---
HeightsWest Trip Slideshow #2
---
2024 HeightsWEST Adventure: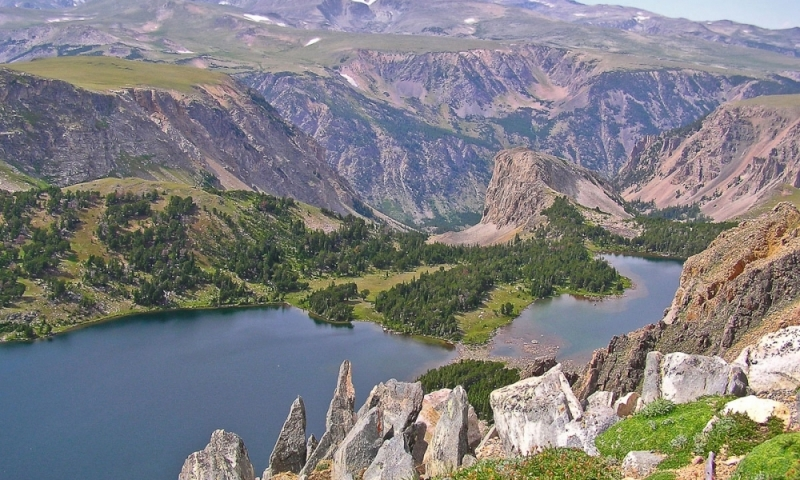 The Beartooth Wilderness, Montana
A favorite spot of our past participants, the Beartooth Cabins Camp offers the ideal place to once again make our home away from home in the shadows of the tallest peaks in Montana. Accessible only by a private bridge, our group rents out an entire network of historic wooded cabins that also offers us a Mess Hall/Kitchen, Historic Barn Chapel, fishing stream through camp, and a variety of unique gathering spaces in this famed Wilderness area. The Absaroka-Beartooth region of Montana is well known for its vast granite peaks and plateaus, pristine rivers, canyons, and some of the most dramatic hikes in the United States. This region borders the northwest edge of Yellowstone and the camp is ideally located right near the famous Beartooth Highway which parallels the Wyoming Border and allows us to easily access some of the best views and hikes of Montana.
Yellowstone National Park: Montana, Wyoming, Idaho
---
Yellowstone National Park was the first National Park in the World. Yellowstone offers 2 million acres of wilderness atop a prehistoric and massive volcanic hot spot that is home to the largest concentration of geothermal activity and geysers in the world. Yellowstone features just about everything: dramatic canyons, giant waterfalls, alpine rivers, lush forests, geysers and hot springs. Yellowstone park is home to hundreds of animal species, including a variety of bears, packs of wolves, and an enormous population of bison, elk, and antelope. Known most famously for the incomparable geological features and landscape that covers the corner of Montana, Wyoming, and Idaho, Yellowstone's combination of natural beauty, rugged wilderness, majestic peaks, and abundant wildlife is guaranteed to offer some memorable adventures together.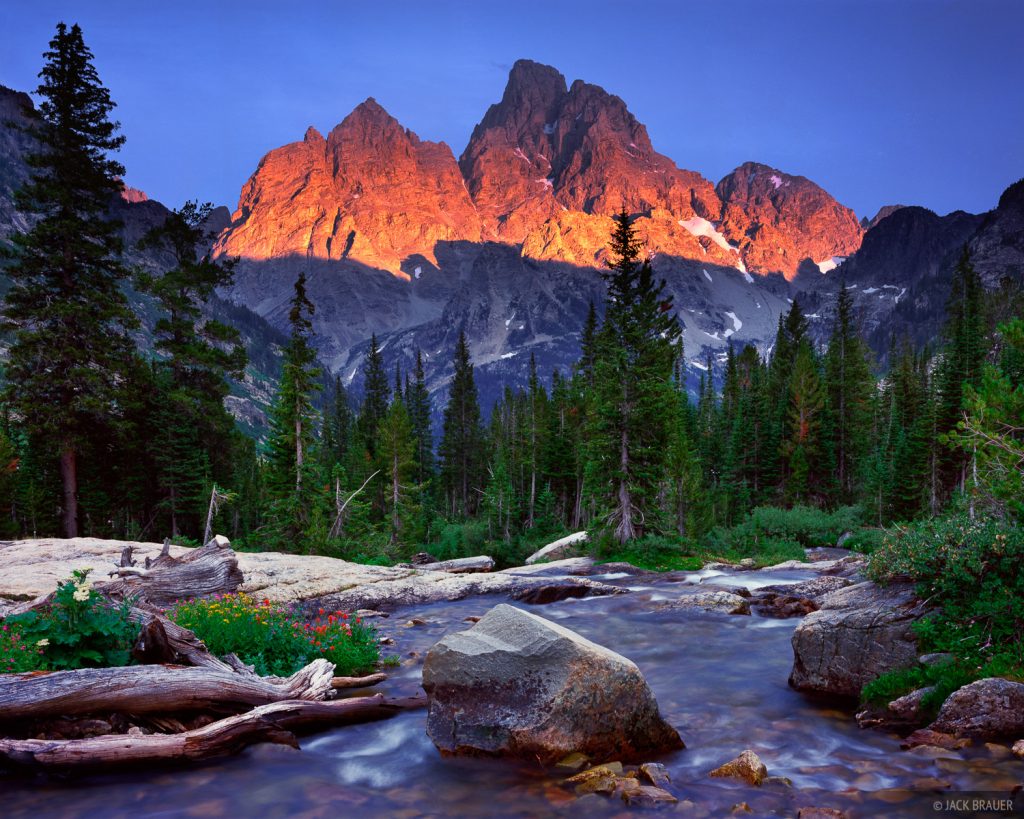 Grand Teton National Park: Wyoming
---
These peaks are mountains of the imagination. Rising above a landscape that is rich with extraordinary wildlife, pristine lakes, lush mountain floors, and alpine terrains, the Grand Teton Range stands as a monument to the unseen forces that created them. Here we choose from over two hundred miles of trails and take in the powerful beauty that has inspired all who have dwelled in the shadows of the Tetons. Grand Teton National Park's 400,000 acres connect to Yellowstone and have been referred to as the backbone of the continental divide. The tallest mountain in the Teton Range is 13,775 feet. The park has numerous lakes and streams that are part of the famous Snake River's initial watershed, fed by a dozen glaciers found at the higher elevations in the mountain range. Some of the rocks in the park are the oldest found in any American national park and have been dated at nearly 2.7 billion years. This pristine ecosystem hosts the same species of flora and fauna that have existed since prehistoric times along with many species of large and small mammals, birds, amphibians, and native fish species.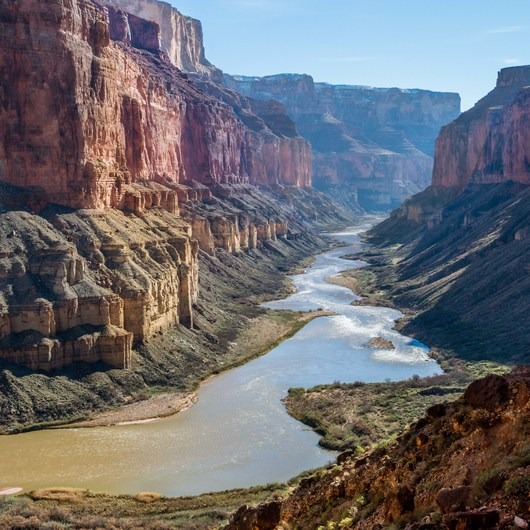 Bighorn National Canyon and Western towns
---
Bighorn Canyon is located near our home base, a network of adjacent historic cabins in the Beartooth region of Montana.  Named for the Bighorn sheep, this canyon was carved by the Bighorn River and is reminiscent of a miniature Grand Canyon.  Native Crow Indians have inhabited this area for thousands of years and mountain men such as Jim Bridger were known to have constructed log rafts for the spring whitewater to explore this river and region of the country. With over 120,000 acres, this area offers an astounding variety of ecosystems, wildlife, and human history to explore.
Along our journey, we will also experience the culture of the American West with occasional stops in nearby western frontier towns including Cody WY, Jackson WY, Island Park Idaho, and Billings, MT.
HeightsWEST 2024
Grades: Rising 7-11, with groupings by grade
Dates: June 12-19, 2024
Cost: $1950 plus airfare.
The first deposit payment of $1000 is fully refundable and holds a spot for your son up until we announce the plan to purchase plane tickets as a commitment. The trip is expected to reach full capacity. Contact Mr. Andrew Reed to register. (ext 104 or areed@heights.edu). Deposits can be made as a paper check or through clicking the following deposit link:
https://secure.heights.edu/parents/payments.