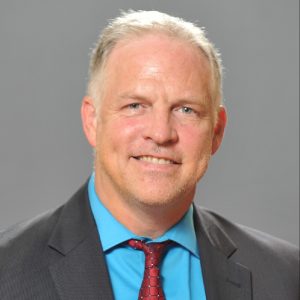 About Steve
B.S. Towson University
At The Heights since 1999
Steve Coyne ('83) is one of five Coyne brothers to graduate from The Heights School. He joined The Heights math department and baseball coaching staff in August of 1999 following twelve years in private industry, including three years as an actuarial analyst. He became one of The Heights' two (increased to three in 2015-16) college counselors in the spring of 2003 while continuing to teach three math classes. He attended both Johns Hopkins University and Towson University and earned his B.S. degree in mathematics with an actuarial science concentration after being named to the Academic Dean's List five times. Steve has earned 70 credits from the Society of Actuaries for passing several actuarial exams.  He has attended the Harvard Summer Institute on College Admissions six times since 2006 in addition to several other national college admissions conferences.
While attending The Heights, he co-captained the varsity soccer team and was both captain and player-coach of the varsity baseball team, and was the salutatorian at his Heights senior graduation ceremony. He also worked as a coach and counselor at the Tenley Center summer camps and was formerly a part-time math teacher for the Tenley SAT prep course.  Steve currently teaches three Geometry classes in the upper school in addition to working as one of the upper school's college counselors for 20 years.  He has also served as a Heights baseball coach for 21 years—as assistant varsity coach, head JV coach, head varsity coach, eighth grade coach, seventh grade coach, and middle school A-Team coach. He was the  8th grade baseball coach for the 2021 spring season (but his Geometry class afternoon teaching schedule has prevented him from coaching Heights baseball ever since).  Steve is still an active player in multiple competitive Montgomery County adult softball leagues.
Steve has three children (Tony, Christopher, and Emma). Steve lives in nearby Bethesda but will be moving to Indiana in summer of 2023 for a sabbatical to teach math for a Catholic school and be closer to family.