Important Contact and Links
The Heights School Health and Medical Information Office
Isaac White RN, iwhite@heights.edu, 301.365.0227 x199
Response to a Laboratory Confirmed Case of COVID-19 and Persons with COVID-19-like Illness in Schools:
https://phpa.health.maryland.gov/Documents/School%20Response%20to%20a%20Case%20of%20COVID-19_8.28.2020.pdf
Maryland Department of Health Decision Aid for Absences and Return to School: Revised 8.28.20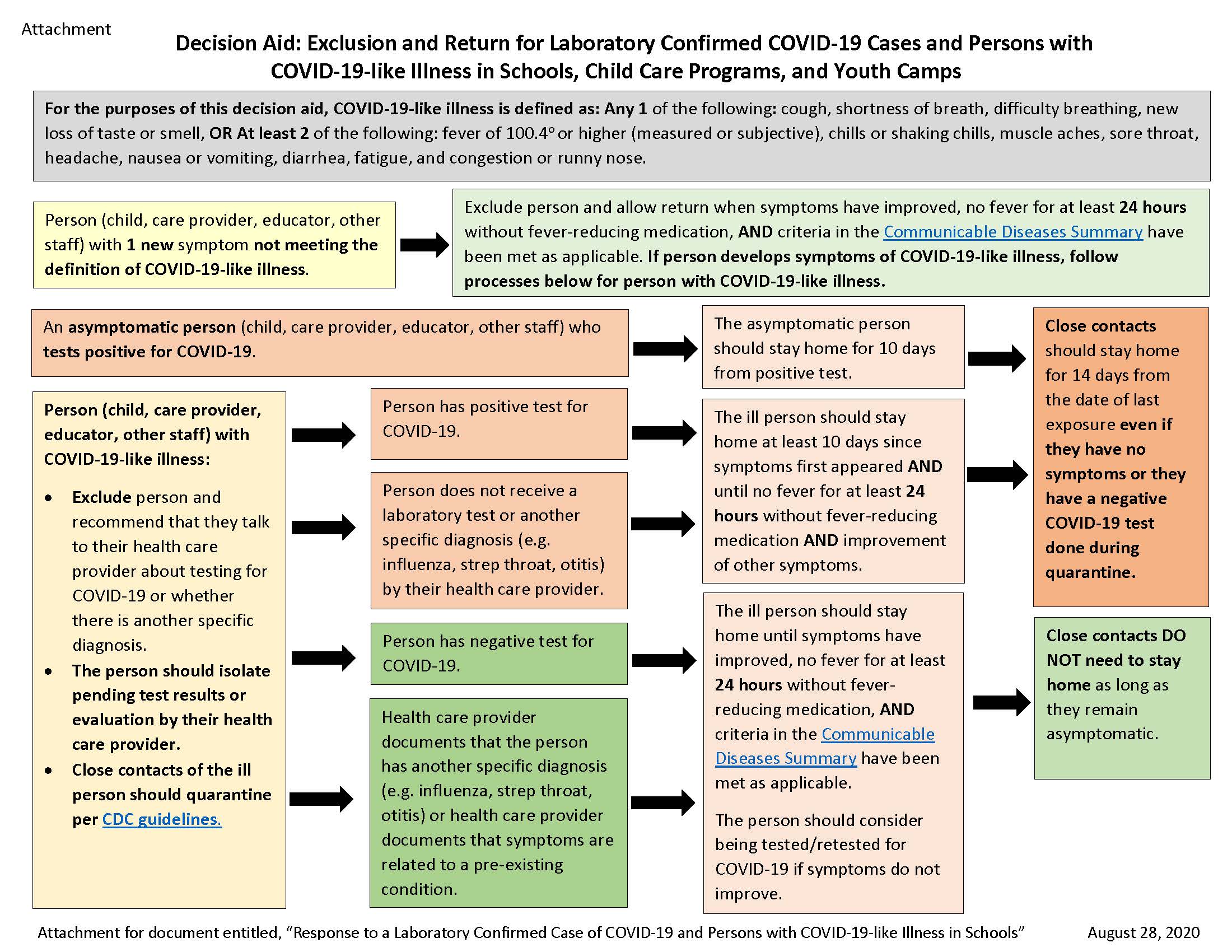 Checklist: Planning for In-Person Classes:
https://www.cdc.gov/coronavirus/2019-ncov/community/pdf/Back-to-School-Planning-for-In-Person-Classes.pdf
COVID-19 – Health Care Workers Care for Children Guide:
https://www.cdc.gov/coronavirus/2019-ncov/hcp/pediatric-hcp.html
Montgomery County, Maryland, Reopening Guide:
https://www.montgomerycountymd.gov/covid19/reopening/requirements/nonpublic-schools.html
Maryland Department of Health COVID-19 Testing FAQs:
https://phpa.health.maryland.gov//Documents/coronavirus_testing_FAQ-2.pdf
Medical Guidance and Health Scenarios
When Symptoms are Present
Any student or teacher who has a symptom-based suspected case of COVID-19

should stay at home and must get tested or evaluated by a physician before returning to school. The following symptoms are indicators, when not associated with another condition, as evaluated by a physician. Please follow the guidelines listed below under "Protocol for Checking for Symptoms" to determine when to be tested or evaluated by a physician.

Fever or feeling feverish (such as chills, sweating)

Cough

Sore throat

Runny nose

Congestion

Shortness of breath or difficulty breathing

Nausea, vomiting, or diarrhea

Muscle aches or body aches

Headache

Fatigue

New loss of taste or smell

Please note that COVID-19 symptoms are similar to many other diseases and the attention of a doctor is strongly suggested. 

Any individual with symptoms must

remain at home

until test results are finalized 

or their physician has cleared them to return to school.
Testing
Negative Test

: In the event of a negative COVID-19 PCR test, a student or faculty member may return to school only once they have demonstrated a temperature below 100.4°F for over 24 hours while unmedicated

and

improvement of symptoms (e.g. cough). A return to school should be through the guidance of a physician and based upon any other updated listed exclusions on the CDC website. 

Positive Test

: In the event of a positive COVID-19 PCR test, the individual should remain isolated at home until:

At least 10 days have passed since symptom onset 

and

At least 24 hours have passed since resolution of fever without the use of fever-reducing medications 

and

Other symptoms have improved and a physician suggests return to normal activities. 

We request a phone call to our school nurse as soon as possible to notify our school of a positive test.

If there are no symptoms associated with a positive test (asymptomatic case), then the individual should remain home in self-isolation for

10 days

from the positive test date.
Close Contact/Exposure
When an individual has been exposed to someone with confirmed COVID-19 or with someone with a symptom-based suspected case of COVID-19, this individual will need to be quarantined for

14 days

to monitor for symptoms according to CDC guidelines. Please follow the guidelines listed below under "Protocol for Checking for Symptoms" to determine when to be tested or evaluated by a physician and specific details regarding exposure-related quarantine.

An exposure is defined by the CDC as the following: 

You were within six feet of someone who has COVID-19 or a symptom-based suspected case of COVID-19 

for a period of 15 minutes or more.

You provided care to someone who is sick with COVID-19 or a symptom-based suspected case of COVID-19.

You had direct physical contact with the person. 

You shared eating or drinking utensils.

The infected person sneezed, coughed, or somehow got respiratory droplets on you.

If these situations took place anytime within two days prior to contact's onset of symptoms through 10 days after the onset of their symptoms, then the event is considered an exposure requiring a quarantine according to current CDC guidelines. 

Additionally, living in the same home as a family member who has tested positive for COVID-19 or has a symptom-based suspected case of COVID-19 should be considered to be a close contact that requires a quarantine. 
Please note that in the cases of either symptoms or quarantine, our faculty will be understanding and supportive of students and families who are acting in the best interest of our school community. Lessons will still be available through the online platform. 
Protocol for Checking for Symptoms
Protocol for Symptoms that Develop at Home
The ongoing efforts to allow on-campus instruction greatly relies on the willingness of parents to keep their sons at home and have their sons tested or evaluated by a physician whenever symptoms of a COVID-19 like illness are present.
Please review the Maryland Department of Health's document for further information on symptoms and testing here. The flowchart below, which is pulled from the MDH document is particularly helpful and worth printing to have on hand.
Maryland Department of Health Decision Aid for Absences and Return to School: Revised 8.28.20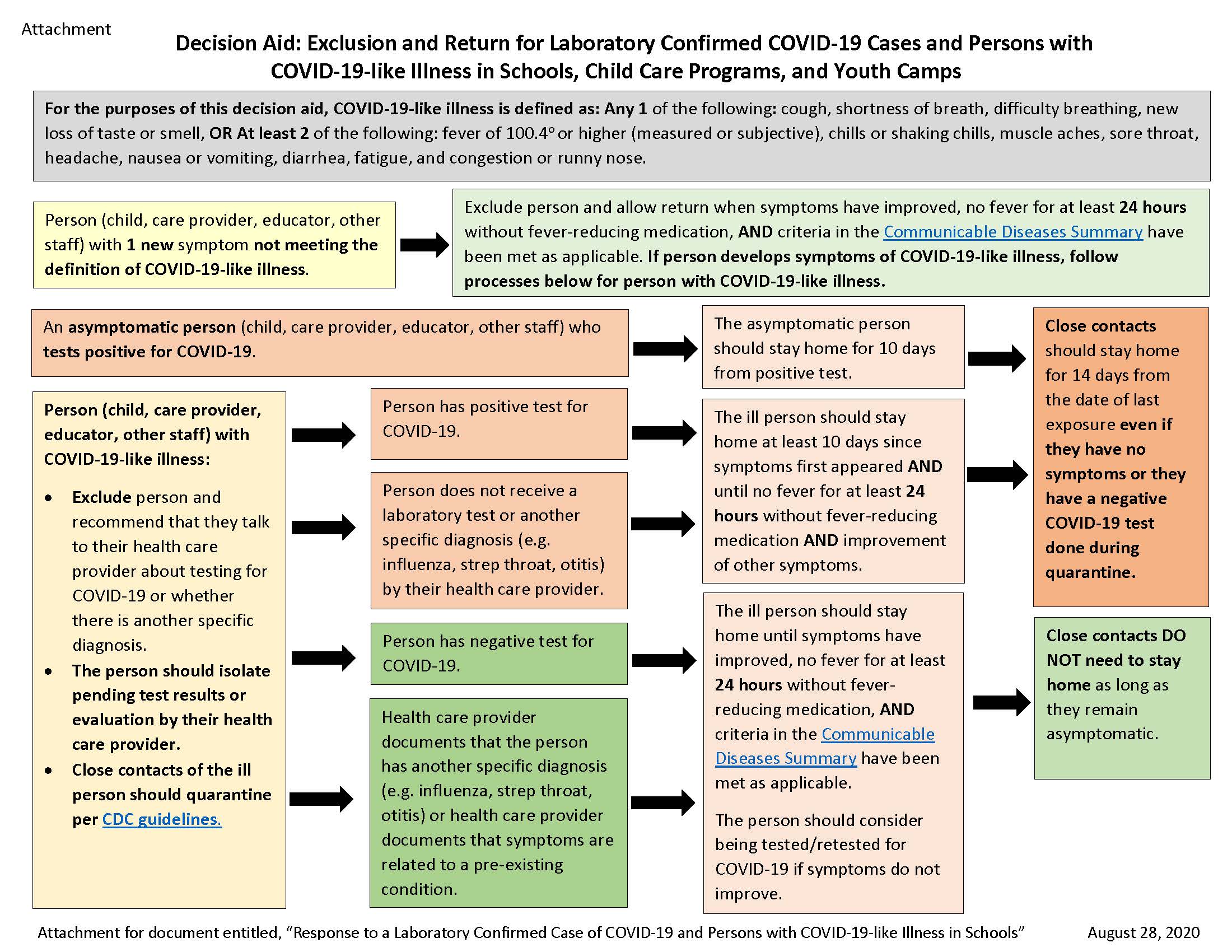 Protocol for Symptoms that Develop at School
Any student with symptoms while at school will be taken to the Medical and Health Information Office on campus for evaluation by the school nurse and will await pick up in an isolated area, preferably outside on a bench, deck, or covered gazebo.
Protocol for Notification of Cases
There is a recognized need for the school to communicate confirmed cases in a confidential way to parents and faculty. Messages sent to parents will include necessary information while seeking to keep the person's identity confidential.

All COVID-19 Case reporting (of a student, immediate family member, or a known exposure) will be reported through the Health and Medical Information Office. All reporting will be kept confidential at the school and communicated to the individual faculty members when necessary.

Approaches to spread mitigation when confirmed COVID-19 cases appear may include: 

Reviewing desk assignments for contact tracing and asking any students with known exposures to remain at home;

Cancelling in-person classes for one homeroom or if needed, the whole grade;

Distance learning for a specific group to allow time for any potential cases of the virus to develop;

Moving to a hybrid 50-50 model by individual grade or multiple grades with further monitoring;

Targeted temperature screening or symptom questionnaire screening;

Deep cleaning during and after school hours of any specific area;

Requesting the testing of a particular grade or homeroom.